Well folks we have come to the end of our week long celebration of all things Gena. It has been a wonderful ride and I am happy that I had the opportunity to celebrate it with my buddy and smut twin
Twimom
! We hope that you all have enjoyed it as well. Gena's books are very special to me and I was so happy to do this. It was truly an honor to do this and I look forward to reading more in the future from one of my favorite authors! At this time I would like to thank the wonderful and generous Gena Showalter for taking the time to take part in this celebration. She is supplying as well as signing the books for the winners. You are truly great Gena. *chanting* Gena, Gena, Gena! Please make sure you visit her site and show her some love! She truly deserves it. Here is the link:
http://genashowalter.com/
Today's giveaway is the final giveaway for our celebration. It is a signed copy from Gena of
INTO THE DARK!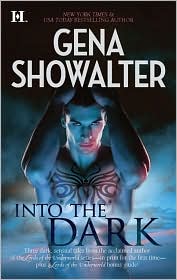 Three otherworldly tales from the master of paranormal romance…and a brand-new Lords of the Underworld bonus guide!
The Darkest Fire—a Lords of the Underworld prequel
Geryon is the guardian of hell, more monster than man. Kadence is the goddess of Oppression, more angel than woman. Together they will enter the flames to battle a dangerous horde of demon lords—and discover a passion unlike any other.
The Amazon's Curse—a tale of Atlantis
Zane, a fierce vampire warrior, has been enslaved by the Amazons. Nola, a lovely Amazon soldier, has been cursed with invisibility. Now, these two stubborn enemies must overcome the pasts that haunt them and embrace a love that can set them free….
The Darkest Prison—a Lords of the Underworld tale
Once, Atlas, the Titan god of Strength, was the Greek goddess Nike's slave. Now, he is her master. And soon these sworn rivals destined to destroy each other will be forced to risk everything for a chance at love….
The book also contains a Lords of the Underworld bonus guide that has a hilarious interview of all the Lords by William. You have to read this interview.
To win a signed copy of The Darkest Night this is what you need to do:
Leave a comment telling us who your favorite author is. If you have more than one feel free to list them.

Provide your email so we can contact you to let you know that you have won. We will contact you for your address info and then forward it to Gena so she can sign your book and send it to you! (you are so lucky if you win. I don't even have a signed Gena book! *sobs*)
All comments must be received by May 26, 2010 by 11:59 p.m. A winner will be chosen using random.org and all winners will be announced on both blogs on May 28, 2010.

Following our blogs is not a requirement but if you are a follower already, thanks for following us. But if you aren't, we would love to have you as a follower. Just click on that handy follow button on the sidebar. :D
I want to wish you all good luck! Many of you have entered and the winners will be emailed and their names posted on both of the blogs on Friday. Make sure you come back then to see if you won a signed copy of one of Gena's books!
My fan letter to Gena.
Dear Gena Showalter,
When I first decided to write a fan letter to you I thought it was going to be an easy task. I was so excited that I would get a chance to convey to you my true feelings of what your books mean to me. But as I sit here in front of my computer typing, the words are not flowing out of me the way that I would like them too. I truly want to write this letter without sounding too much like a fangirl. But I think that is the only way it can sound because I really truly am one. For you are truly a rockstar in my eyes.
Books have always been such a huge part of my life. I was the little girl with the glasses who always had her head stuck in a book. I was taunted and teased by my brothers who called me a nerd because I never had enough books to read. They just didn't know that books took me to places I never thought I could go. And that is why your books mean so much to me. They take me out of my ordinary everyday world to somewhere exciting. Your books were some of the first Paranormal Romance books that I read. I had just read the Twilight series and was looking for something exciting. I found your books and have been hooked since. Your characters say and do the most unbelievable things. Your books are filled with so much life that it doesn't feel like I'm reading a book. I feel like I'm fighting alongside the Lords of the Underworld (I love you Gideon!) or tracking down aliens with the A.I.R. agents. I think I would make a good partner to Devyn. I'm sure lot's of women would like that. I can actually remember the first book of yours that I read. It was The Nymph King. I took one look at the cover and knew that I had to read it. I never thought the inside of the book would be better that the outside. I knew that I had found something special and I wasn't letting go.
So I can't help but get giddy when I see you tweet or read one of your blog posts. I'm proud to chant your name with another Gena addict, my buddy JoJo. I have had lots of people tell me that they would love to join my Cult of Gena. I am just so happy to know that I am not the only one that feels this way about your books. You are a phenomenal writer and I am proud to be a Gena fangirl!! *chanting* Gena, Gena Gena!!