This week is going to be a book addict's dream come true! There are lots of great new releases coming out this weeks, so let's get to it!!
Books
The Darkest Passion is the 5th book in the Lords of the Underworld series. The story centers on the love between Aeron and Olivia. Here is what the book is about:
For weeks, the immortal warrior Aeron has sensed an invisible female presence. An angel—demon-assassin—has been sent to kill him. Or has she? Olivia claims she fell from the heavens, giving up immortality because she couldn't bear to harm him. But trusting—and falling for—Olivia will endanger them all. So how has this "mortal" with the huge blue eyes already unleashed Aeron's darkest passion?
Now, with an enemy hot on his trail and his faithful demon companion determined to remove Olivia from his life, Aeron is trapped between duty and consuming desire. Worse still, a new executioner has been sent to do the job Olivia wouldn't….

I did a review for this fabulous book and if you and if you are interested in reading it, it can be found here.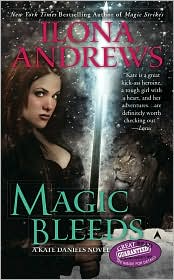 I have been going crazy waiting to read this book! Magic Bleeds by Ilona Andrews is book 4 in the Kate Daniels series. Here is what the book is about:
Kate Daniels cleans up the paranormal problems no one else wants to deal with-especially if they involve Atlanta's shapeshifting community.

And now there's a new player in town-a foe that may be too much for even Kate and Curran, the Lord of the Beasts, to handle. Because this time, Kate will be taking on family.
I for one can't wait to read about Curran and Kate. I've been reading from many people on Twitter that this book is H-O-T!!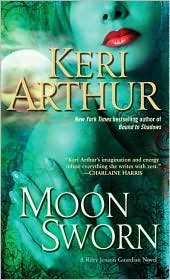 Moon Sworn is book 9 in the Riley Jensen series. Here is what the book is about:
Some nights never end.
Some desires never die. . . .
Shape-shifting werewolf and vampire Riley Jenson is through with death—causing it, solving it, surviving it. Her soul mate, Kye Murphy, is dead—and at Riley's own hands. Not even the seductive embrace of her vampire lover, Quinn, can fully ease her mind, for she has begun questioning everything that makes her Riley—including her job at the Directorate.
Now, the ritualistically slain bodies of ex-cons have started turning up. Reluctantly, Riley takes the case, but something even worse is waiting in the wings. A vicious enemy from her past is determined to strip Riley of everything that gives her life any meaning: her lover, her brother—and even her own identity. Can Riley survive this ultimate assault? All she knows is, she must fight one last time to find answers, before everything goes dark forever.
I love the colors on this cover. I haven't read this series yet even though I own books 1 and 2. I better hurry it up or I'll never catch up!
Dane is book 5 in the Lords of Satyr series. Here is a synopsis of the book:
When Dane Satyr approaches Eva for her services as a matchmaker, she offers him more than just introductions. Dane has discovered that Eva is a Satyr like himself, full of insatiable passion and dark desires. Their attraction combusts instantaneously, unlocking pleasures that neither can resist repeating...even as Eva seeks out a mortal bride for Dane.
I have read the first 3 books of the series and loved book 1. I'm debating on reading book 4 which is called Dominic and Dane as well. The series is pretty interesting so I think I will continue reading it. I'll have to pick up books 4 and 5 from the library.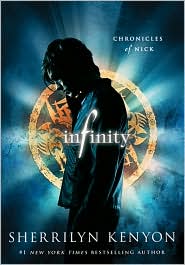 Chronicles of Nick is the 1st in a new series by Dark Hunters author Sherrilyn Kenyon. The series is about Nick who is a teenager and is pulled into the world of the Dark Hunters. It is a YA series. But I am sure lots of Dark Hunter fans will read it. Here is what the book is about:
At fourteen, Nick Gautier thinks he knows everything about the world around him. Streetwise, tough and savvy, his quick sarcasm is the stuff of legends. . .until the night when his best friends try to kill him. Saved by a mysterious warrior who has more fighting skills than Chuck Norris, Nick is sucked into the realm of the Dark-Hunters: immortal vampire slayers who risk everything to save humanity.

Nick quickly learns that the human world is only a veil for a much larger and more dangerous one: a world where the captain of the football team is a werewolf and the girl he has a crush on goes out at night to stake the undead.

But before he can even learn the rules of this new world, his fellow students are turning into flesh eating zombies. And he's next on the menu. As if starting high school isn't hard enough now Nick has to hide his new friends from his mom, his chainsaw from the principal, and keep the zombies and the demon Simi from eating his brains, all without getting grounded or suspended. How in the world is he supposed to do that?

This book sounds very interesting and I hope I get the chance to check it out.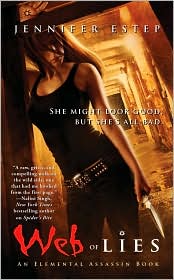 Web of Lies is book 2 of the Elemental Assassin Series. I've heard great things about this series. Here is what Web of Lies is about from a characters point of view:
Curiosity is definitely going to get me dead one of these days. Probably real soon.
I'm Gin Blanco.
You might know me as the Spider, the most feared assassin in the South. I'm retired now, but trouble still has a way of finding me. Like the other day when two punks tried to rob my popular barbecue joint, the Pork Pit. Then there was the barrage of gunfire on the restaurant. Only, for once, those kill shots weren't aimed at me. They were meant for Violet Fox. Ever since I agreed to help Violet and her grandfather protect their property from an evil coalmining tycoon, I'm beginning to wonder if I'm really retired. So is Detective Donovan Caine. The only honest cop in Ashland is having a real hard time reconciling his attraction to me with his Boy Scout mentality. And I can barely keep my hands off his sexy body. What can I say? I'm a Stone elemental with a little Ice magic thrown in, but my heart isn't made of solid rock. Luckily, Gin Blanco always gets her man . . . dead or alive
.
I seriously need to get on the ball and read this series! Everyone has been talking about it.
Forbidden Highlander is book 2 of Donna Grant's Dark Sword series. Here is what this book is about:
A DANGEROUS SECRET…

Fallon MacLeod has gifts any warrior would covet - fierce strength, unmatched skill, even immortality. But those gifts come at a price that puts everyone he loves at risk. Only when his brother, Quinn, is taken captive does Fallon leave the seclusion of his Highland home to seek the king's aid. And though every women at court would gladly be his for the asking, one alone causes desire to roar to life within him: beautiful, mysterious Larena Monroe.

A WILD DESIRE…

Rumors swirl around the castle about "The McLeod" but Larena knows the truth. Like Fallon, Larena is searching for a way to vanquish the evil Druid who wants to wreak havoc on earth. Drawn to Fallon in spite of her fear, she surrenders to a passion that shocks them both with its raw intensity. But Larena dares not hope for more - not when she holds a secret that could turn her fiery Highland love against her forever…
Everyone go out and buy this book because Donna is a sweetheart. Here is a link to her website for this book:
http://www.donnagrant.com/forbiddenhighlander
Eve of Samhain is a new book out and is written by one of my Twitter buddies
@LisaSanchez3
. Here is what the book is about:
As a college senior and server at Hanaford Park's hottest nightclub, twenty-one year old Ryann Pierce's plan was simple: work hard, make lots of money, and avoid the ass-grabbers at all costs. What she never planned for was Quinn Donegan—the living, breathing advertisement for sinful behavior that waltzed into her life.
With an angelic face, a hard body and a butt-load of charm, Quinn had a way with the ladies—a lot of ladies. Cursed with a deadly, addictive touch, his trail of indiscretion blazed across five hundred years. Tired and jaded, Ryann is a shocking revelation Quinn didn't see coming.
Filled with desire, yet unable to touch one another, Ryann and Quinn embark on a daunting journey, battling frustrating physical limitations while exploring their new love. In a race against the clock, Ryann learns she must plead for Quinn's life before…the Eve of Samhain. Determined to end her lover's suffering, not even the danger dogging her every move can keep her from her mission.
This book sounds really good and I can't wait to read it! Here is a link to her website to find out how you can order it as well: Eve of Samhain.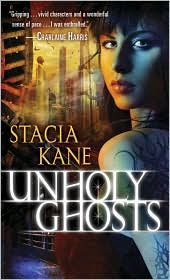 THE DEPARTED HAVE ARRIVED.

The world is not the way it was. The dead have risen, and the living are under attack. The powerful Church of Real Truth, in charge since the government fell, has sworn to reimburse citizens being harassed by the deceased. Enter Chess Putnam, a fully tattooed witch and freewheeling ghost hunter. She's got a real talent for banishing the wicked dead. But Chess is keeping a dark secret: She owes a lot of money to a murderous drug lord named Bump, who wants immediate payback in the form of a dangerous job that involves black magic, human sacrifice, a nefarious demonic creature, and enough wicked energy to wipe out a city of souls. Toss in lust for a rival gang leader and a dangerous attraction to Bump's ruthless enforcer, and Chess begins to wonder if the rush is really worth it. Hell, yeah.

Everyone seems to be talking about this book by Stacia Kane.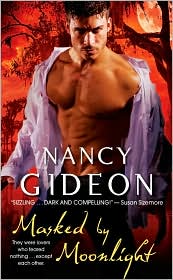 Masked by Moonlight by Nancy Gideon is set in the city of New Orleans. Here is what the book is about:
IN THIS STUNNING FIRST BOOK FROM NANCY GIDEON'S SIZZLING NEW SERIES, A TENACIOUS COP AND HER SHAPE-SHIFTING ENEMY SACRIFICE EVERYTHING FOR FORBIDDEN DESIRE.

ALL SHE WANTS IS REVENGE.

New Orleans homicide detective Charlotte Caissie is dedicated to bringing down the crime boss responsible for her father's murder. Using Jimmy Legere's mysterious and irresistible right-hand man is a dangerous gamble, and not only due to his reputation as more monster than man. Because her feelings for Max Savoie are . . . complicated.

THEN HE RISKS HIS LIFE TO SAVE HERS.

Rescued from the swamps as a child, Max exists silently in Legere's shadow, heeding only his voice—until Charlotte Caissie awakens his emotions and tests his loyalties. Stepping outside his cautious rules threatens more than just his heart. He could expose his darkest secret.

NOW THEY'RE BOTH IN OVER THEIR HEADS.

Testing boundaries they weren't meant to cross means facing the truth about who and what they are—and what they need from each other. If Max is the murderer she seeks, Charlotte could be his next victim. She can't afford to trust any man. Good thing Max isn't one.

My buddy Lynette told me about this book and I'm glad she did. It sounds really interesting.
Music
There are some great tracks on this soundtrack. The one track I am most looking forward to hearing is Liza Minnell singing "Single Ladies". No, I'm not joking. lol
Movies
Season 2 of True Blood is finally on DVD! We get to see all of our favorite moments. Eric wearing that tank and showing his delicious muscles. Jason showing his delicious muscles. Lafayette and his hilarious sayings. I can't wait to revisit everything!
Dear John was adapted into a movie from one of Nicholas Sparks books. Channing Tatum plays a soldier home on leave from the military when he meets Savannah who is a college student. The two may not have been looking for love, but love finds them anyway. Then the September 11 attacks happen, and John is torn between love for Savannah and duty to country.
The Road stars Viggo Mortenson (such a great actor) that travels with his son through a post apocalyptic world as the scrounge for food and try to find warm shelter. They run into groups of people that are cannibals and must fight for their lives along the way. I have read that this movie is really good and will probably get this from Netflix. I saw the preview and could not tear my eyes away from the screen.
So many good choices to choose from this week book addicts. Let me know which ones you are planning on reading. Until next week.