Welcome back to another month of Share The Love!
This week's book is special because it was written by The Great One! She is one of my favorite authors and I love this series so much that I want to share the latest release with someone. I read it and loved it. I promise that if you're a fan of the series you will enjoy it as much as I did. This month's giveaway is for: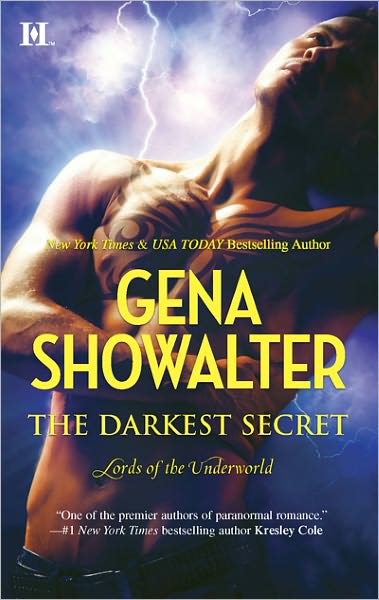 The Darkest Secret by Gena Showalter!
*chanting* Gena, Gena, GENA!!
The Darkest Secret is part of her Lords of the Underworld series. This is Amun's book and it was very good! Here's what the Darkest Secret is about:
Keeper of the demon of Secrets, Amun can manipulate the darkest thoughts of anyone nearby. But when the immortal warrior is chained and isolated to protect those he loves, death is his only hope of release—until he meets Haidee, a fellow prisoner whose beauty and hidden vulnerability draw him into a reckless test of his loyalty….Haidee is a demon-assassin, raised to despise Amun's kind. Yet how can she hate the man whose touch sets her aflame? But to save him, she must give herself body and soul…and face the wrath of a powerful adversary sworn to destroy her.
Please follow the instructions below to enter:
You

MUST

be a follower of my blog, Hanging With Bells!
This contest is open to everyone! Book will be ordered through Book Depository, so if they deliver to you, you'll get it! Click

here

to see if they do.

You

MUST

answer this question in your comments:

W

hich couple from Gena's LoTU series has been your favorite so far? If you haven't read the series, tell me about a couple that you love.

(and you totally need to get on the ball and read this series!)



Include your email so I can contact you if you win.
The giveaway will be open for one week and will end on April 21, 2011 at 12:00 p.m. I will then use random.org to select a winner. Winner will be posted on the blog the same day.
Please don't enter if you've already read or own the book. I would love for someone who has not read the book yet to win it. Greatly appreciated.
Good luck!