There aren't as many book choices for us book addicts this week. We were spoiled over the last couple of weeks I guess. There is actually some likeable music this week and some interesting DVD choices. Here are the new releases:
Books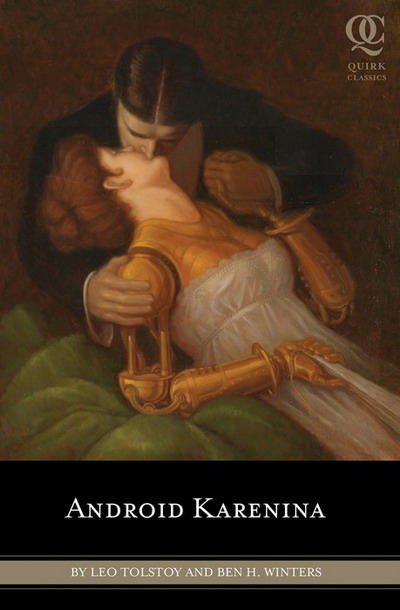 Looks like we have another classic "remake". I haven't read any of these, but I love the covers.
Horror
- Sense and Sensibility and Sea Monsters co-author Ben H. Winters is back with an all-new collaborator, legendary Russian novelist Leo Tolstoy, and the result is Android Karenina an enhanced edition of the classic love story set in a dystopian world of robots, cyborgs, and interstellar space travel.

As in the original novel, our story follows two relationships: The tragic adulterous love affair of Anna Karenina and Count Alexei Vronsky, and the more hopeful marriage of Nikolai Levin and Princess Kitty Shcherbatskaya. These characters live in a steampunk-inspired world of robitic butlers, clumsy automatons, and rudimentary mechanical devices. But when these copper-plated machines begin to revolt against their human masters, our characters must fight back using state-of-the-art 19th-century technology and a sleek new model of ultra-human cyborgs like nothing the world has ever seen.

Filled with the same blend of romance, drama, and fantasy that made the first two Quirk Classics New York Times best sellers, Android Karenina brings this celebrated series into the exciting world of science fiction.
YA
-In this sequel to
New York Times
bestselling author Nancy Holder's
Possessions
, Lindsay finds out that she, too, is possessed, and must return to creepy Marlwood Academy in order to rid herself of the spirit. Lindsay's afraid of what the spirit is telling her to do—kill Mandy! But the secrets of Marlwood go much deeper than Lindsay thought. Sometimes the girls who seem like enemies are actually on your side. And the voices you trust the most—the voices that come from within—are the ones that want you dead.
I have to say Blood Song seems to be the only book I'm interested in this week.
Urban Fantasy
-

In this fast-paced urban fantasy, Adams (
Magic's Design
), the joint pseudonym for C.T. Adams and Cathy Clamp (the Sazi series), introduces readers to a new world full of treachery and action. Tough-as-nails bodyguard Celia Graves protects the rich and famous from ghosts, demons, and other supernatural entities. While guarding the prince of a tiny European country, Celia is caught in a vampire ambush that leaves her wounded and partially transformed. Now she has to figure out her new limits and powers, destroy her sire before he can control her, and put together the pieces of a larger plan in which she's just a pawn. The story line and setting will draw in readers from the start, but late revelations may have them paging backwards to pick up on clues, and some answers will just have to wait for the sequels.
YA - (Release date 6/10)
Adopted by the Alpha of a werewolf pack after a rogue wolf brutally killed her parents right before her eyes, fifteen-year-old Bryn knows only pack life, and the rigid social hierarchy that controls it. That doesn't mean that she's averse to breaking a rule or two.
But when her curiosity gets the better of her and she discovers Chase, a new teen locked in a cage in her guardian's basement, and witnesses him turn into a wolf before her eyes, the horrific memories of her parents' murders return. Bryn becomes obsessed with getting her questions answered, and Chase is the only one who can provide the information she needs.
But in her drive to find the truth, will Bryn push too far beyond the constraints of the pack, forcing her to leave behind her friends, her family, and the identity that she's shaped?
Music
Xtina is back with her 4th studio album titled Bionic. There are 2 versions of this CD, regular and deluxe. The deluxe edition has 5 additional tracks. I will be picking up this CD because I'm a huge fan of Christina's. Here is a little trivia about her. She has the prestigious honor of being the only artist under the age of 30 included in Rolling Stone Magazine's list of the 100 greatest singers of all time.
This album is only an EP so it only contains 6 tracks. They are:
1. Faithfully
2. Anyway you want it/Lovin' touchin' squeezin'
3. Don't Stop Believin'
4. Boheiman Rhapsody
5. To Sir with Love
6. Over the Rainbow
The Eclipse soundtrack also has a regular and deluxe edition. Here is the track listing for the deluxe edition:
1. Eclipse (All Yours) - Metric
2. Neutron Star Collision (Love Is Forever) - MUSE
3. Ours - The Bravery
4. Heavy In Your Arms - Florence And The Machine
5. My Love - Sia
6. Atlas - Fanfarlo
7. Chop And Change - The Black Keys
8. Rolling In On A Burning Tire - The Dead Weather
9. Let's Get Lost - Beck and Bat For Lashes
10. Jonathan Low - Vampire Weekend
11. With You In My Head - UNKLE (Feat. The Black Angels)
12. A Million Miles An Hour - Eastern Conference Champions
13. Life On Earth - Band Of Horses
14. What Part Of Forever - Cee Lo Green
15. Jacob's Theme - Howard Shore
16. The Line - Battles
17. How Can You Swallow So Much Sleep - Bombay Bicycle Club
Movies
Well folks, Nip/Tuck has finally reached the end of the road. The show has been one wild ride. I didn't watch this last season on the tv so I'll be picking up this DVD and adding it to my collection with the rest of the seasons. This show sure did have it's crazy moments, but I loved Dr. Troy and Dr. McNamara. I hope the actors get involved with something else because they are great ones.
When U.S. Marshal Teddy Daniels (DiCaprio) arrives at the asylum for the criminally insane on Shutter Island, what starts as a routine investigation quickly takes a sinister turn. As the investigation unfolds and Teddy uncovers more shocking and terrifying truths about the island, he learns there are some places that never let you go.
I'll borrow this one from Netflix. It looks scary. lol
James Reece (Jonathan Rhys-Meyers), personal aide to the U.S. Ambassador to France, is secretly moonlighting as a low-level CIA operative. Looking for more action, Reece accepts a job that teams him with wise-cracking special agent Charlie Wax (John Travolta), a trigger-happy loose cannon sent to Paris on a mission of international importance. Now, Reece finds himself on the wildest ride of his life as the new partners pull out all the stops to annihilate the enemy in this explosive, white-knuckle, non-stop thriller.
I only want to see this because of Jonathan Rhys-Meyers. Me likes him.
So that's it for this week. Let me know which of these you like or might be picking up. See you next week!