The month of June is upon us and it feels like time is flying. We will be reading Shadowfever in no time people! There are tons of new books out this week! Something for everyone! Here are the new releases for this week:
Books
Skin Tight is book 2 of Ava Gray's Skin Series. I can't wait to read about Foster. Here's some info on the book:
Uncovering the truth is her specialty
As a forensic accountant, Mia Sauter could usually tell when people had something to hide. She made her living exposing secrets while concealing her own. Then, in Vegas, she met a clever, ruthless man who called himself Addison Foster. One year later, she's still haunted by his betrayal.
He's a natural born liar
The truth of him had long ago been buried. Foster was only one name of many; he'd been so many men, he'd lost count. Reinvented as Thomas Strong and hell-bent on revenge, his mission is about to be compromised by the one woman capable of exposing him…
Reunited, they confront the explosive chemistry still crackling between them. But their chance meeting will have consequences, for a ruthless madman has his own deadly agenda. The question is—if they survive the fallout, will he choose love over vengeance?
Assassin's Honor is by Monica Burns.
A sexy new adventure-packed romance with a paranormal twist-from the award-winning author.

Archeologist Emma Zale sees the past when she touches relics. It's how she uncovered evidence of an ancient order of assassins-the Sicari. When a sinfully dark stranger shows up on her Chicago doorstep demanding an artifact she doesn't have, he drags her into a world where telekinesis and empaths-someone who can sense the emotions of others- are the norm. Now someone wants her dead, and her only hope of survival is an assassin who's every bit as dangerous to her body as he is to her heart.

Bullet is #19 of the Anita Blake Series by Laurell K. Hamilton.
The music came back up and the next group of little girls, slightly older, came out. There was a lot of that in the next hour and change. I liked dance, and it was no reflection on the kids, but my will to live began to seep away on about the fifth group of sequined children...

Anita Blake is back in St. Louis and trying to live a normal life-as normal as possible for someone who is a legal vampire executioner and a U. S. Marshal. There are lovers, friends and their children, school programs to attend. In the midst of all the ordinary happiness a vampire from Anita's past reaches out. She was supposed to be dead, killed in an explosion, but the Mother of All Darkness is the first vampire, their dark creator. It's hard to kill a god. This dark goddess has reached out to her here-in St. Louis, home of everyone Anita loves most. The Mother of All Darkness has decided she has to act now or never, to control Anita, and all the vampires in America.

The Mother of All Darkness believes that the triumvirate created by master vampire Jean-Claude with Anita and the werewolf Richard Zeeman has enough power for her to regain a body and to immigrate to the New World. But the body she wants to possess is already taken. Anita is about to learn a whole new meaning to sharing her body, one that has nothing to do with the bedroom. And if the Mother of All Darkness can't succeed in taking over Anita's body for herself, she means to see that no one else has the use of it, ever again. Even Belle Morte, not always a friend to Anita, has sent word: "Run if you can..."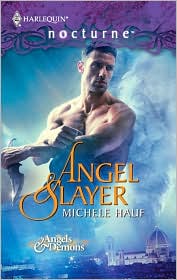 All her life Eden Campbell had dreamed of angels…but none that she painted was like the fallen angel who attacked her. A muse, Eden was now to bear her attacker's offspring—one who promised the apocalypse and foretold her death. Where else could she turn but into the arms of a mesmerizingly handsome angel slayer? But Ashur's protection came with a price.

The dark, dangerous and oh-so-sexy slayer tormented her, made her remember how long it'd been since she'd had a man. But Ashur was no man, and no angel. He was a demon. Called from Beneath to slay her attacker, he could commit every sin but couldn't fall in love. And that was the one thing Eden wanted from him. How could she choose between a death sentence or a life without Ashur?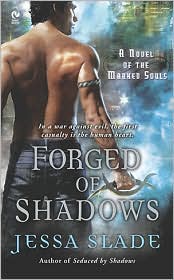 After surviving the Irish Potato Famine, Liam Niall was possessed by a demon in search of redemption. Now, he heads the Chicago league of taylan in their fight against evil. Jilly Chan is a mentor to the local homeless youth-and warrior against the criminals who prey upon her charges. She's already half-taken by a demon, so Liam reluctantly tries to guide her into full power.

Even as the proudly independent Jilly tries to remain true to her own soul, Liam's fiercely passionate touch leaves a mark on her desirable flesh as enduring as her new demonic tattoo...
Rowan Dietrich grew up on the streets. Now she's out to start anew, find a job-and keep her identity as a Kyndred secret, as well as her ability to "dreamveil" herself into the object of others' desires.

But Rowan isn't using her gift when world-class chef Jean-Marc Dansant is stricken by her beauty and strength. And when dark secrets from her past threaten her new life and love, Rowan realizes she can't run forever...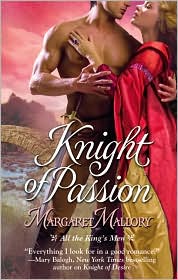 HOW CAN THIS PASSIONATE KNIGHT...
Renowned beauty Lady Linnet is torn between two desires: revenge on those who destroyed her family or marriage to her childhood sweetheart Sir James Rayburn. One fateful night, she makes a misguided choice: she sacrifices Jamie's love for a chance at vengeance.

TRUST A BEAUTY WITH A PAST?
Jamie Rayburn returns to England in search of a virtuous wife-only to find the lovely Linnet as bewitching as ever. Their reckless affair ignites anew, even hotter than before, although Jamie vows to never again trust her with his heart. Then just as Linnet begins to make amends, she's tempted by one last opportunity to settle old scores. But a final retribution could cost her Jamie's love - this time forever.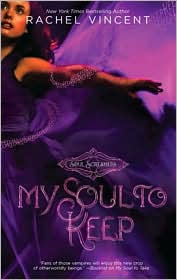 Kaylee has one addiction: her very hot, very popular boyfriend, Nash. A banshee like Kaylee, Nash understands her like no one else. Nothing can come between them.

Until something does.

Demon breath. No, not the toothpaste-challenged kind. The Netherworld kind. The kind that really can kill you. Somehow the super-addictive substance has made its way to the human world. But how? Kaylee and Nash have to cut off the source and protect their friends—one of whom is already hooked.

And so is someone else…


Movies
Alice In Wonderland
Johnny Depp looks bat shit crazy in this movie and I can't wait to see it! He's such a versatile actor.
The Wolfman
I'm anxious to see this movie because I heard so many mixed reviews about it. I love Anthony Hopkins. His voice could put me to sleep.
Life
This is a documentary hosted by BBC and is narrated by the fabulous Oprah Winfrey. I'm hoping they get this at my place of work because my family loves to look at things that are nature related.
Well there you go folks. Let me know what you plan on picking up this week.