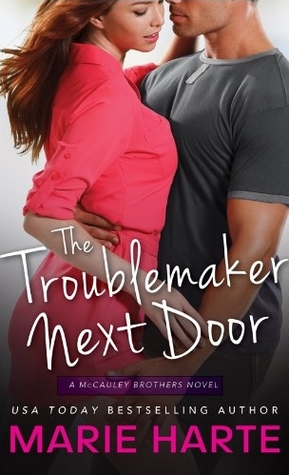 There's nothing quite like family. I'm fascinated by family dynamics, and I confess, envious of larger, close-knit families. I wanted to write about people tied together by love and friendship as they set out to find—or in the guys' case, get caught—by romance.
Enter four rough and tough brothers. There's the oldest, Mike, who lost his soulmate years ago but managed to soldier on. Flynn, the charmer, who everyone likes. Brody, the troublemaker, and the unofficially adopted member of the clan. And Cameron, the youngest, and the white collar professional having a hard time fitting into his blue collar family. Then there are James and Beth, two people who love each other and raised four strong, strapping sons.
I love how each brother is different. Of course, they're all quite good looking. *grin* But there's more to each than bright eyes and a square jaw.
In
The Troublemaker Next Door
, Flynn meets his match. He's the easygoing McCauley, thirty years old and the middle child. He's confident, funny, and sure of what he doesn't want in a relationship—something permanent. He wants what his parents have, a happily ever after. But the women he's been dating never measure up, so he keeps his heart safe by not taking any woman seriously as more than a sexy friend.
That's until Maddie Gardner throws him one serious curve.
What adds to the romance is the relationship the brothers share. Cam has recently moved back to the West Coast, and now all the McCauleys can gather for poker night and family picnics. With their parents also living so close, the love and laughter is always there.
Brody's a card cheat, but he never gets caught. Cam can select the best wines for you while investing your money to make you rich. Mike makes everything better, the big brother with the heart of gold. But he's not afraid to put a guy in a headlock to make his point. Flynn has a smile and a joke for everyone, but he goes down hard when he falls for a redhead who only wants to keep it casual.
Oh, and did I mention Colin McCauley? The youngest of the lot, he's Mike's six year-old son. The boy can cry on command, has been known to do magic making money disappear, and has three devoted uncles and one huge father protecting and loving him. The chemistry between brothers (and nephew) resonates, because how wonderful would it be to know that no matter what, someone always has your back? Support when you need it, and a never-ending source of camaraderie.
The poker night scenes in this story are some of my favorite, because the guys like to razz one another, and you get a better insight into who they are.
Sexy brothers. What's better in the world of romance? Especially when each brother gets his own happily ever after?
Thanks for having me!
Marie
website
|
blog
|
facebook
follow me on twitter
@MHarte_Author
USA Today Bestselling Author