*Singing at the top of my lungs* I WANT 'EM ALL!!
I've decided to do a post on the books that I am anticipating the most. Like every other book addict out there, I am constantly thinking about the books that haven't been released yet. You know the books that you want to squeeze to your bosom. I did that when I finally had Lover Mine in my hands. I squeezed it and hugged it. Almost kissed it. My husband looked at me and just shook his head. But you guys know what I mean so that's all that matters! I have lots of books in my TBR pile, but they just aren't enough. I WANT MORE!! And I want the good ones! So here is a list of books that I just can't stop thinking about:
(In order of release)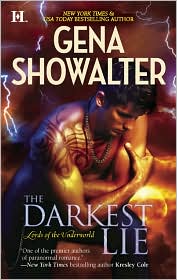 Title: Darkest Lie
Author: Gena Showalter *chants* Gena, Gena, Gena!
Release date: June 29,2010
I cannot wait to read Gideon's story. Finally I might learn why his hair is blue. I will be able to read more of his twisted language (I hate it so much!). And find out about this supposed wife of his (HISS!!!). Cult of Gena members, I know that you are all as anxious as I am for this one!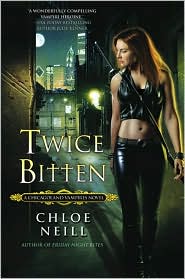 Title: Twice Bitten
Author: Chloe Neill (Loves her!)
Release date: July 6, 2010
Ah Ethan! I have missed you so. I am so looking forward to this book because I am waiting for it to happen. Book Gods PLEASE LET IT HAPPEN! I am waiting for Ethan and Merrit to get it on!! Now I know I'm not the only one that is waiting for this. I know there will be more to the storyline than just the great smexy scenes, but that's what I am anticipating the most. Yes people I am a perv! You should know that by now!!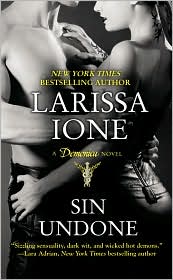 Title: Sin Undone
Author: Larissa Ione (I worship her!)
Release date: August 24, 2010
Cannot. Wait. To. Read. This. Book. The Demonica Series in on FIYAH!!! Sin is a bad bitch y'all. And that Conall, he shall be placed upon the boyfriend list (must go back and read that closet smex scene). Can't wait to discuss this book with
Smexi
and
Jules
cause I know that they are looking forward to reading it as well!
*Yes this cover is bigger than the others for obvious reasons. ;)*
Title: Demon from the Dark
Author: Kresley Cole
Release date: August, 24, 2010
Love the Immortals After Dark Series, and that last one was H-O-T!! So let the hottness continue, and if that cover is a hint to how hot it will be, I'm sure that I will be feeling like I'm having a hot flash! You go K.C. with your bad self!
Title: The Renfield Syndrome
Author: The awesome JA Saare (my boo)
Release date: I DUNNO!! (Sobs uncontrollably)
Sigh. I'm sure you've all heard the bad news regarding the sequel to one of my new favorite books, Dead, Undead, or Somewhere In Between. The ass-wipe Pirates (not the sexy Johnny Depp, Orlando Bloom kind) have put my boo in a bad mood. They have made her so upset and angry, that she has ceased writing the sequel. I'm so mad because I was so looking forward to reading more about my book boyfriend Disco and the bad ass Rhiannon. I support Jaime though this hard time and will wait as long as it takes for her to feel like getting back to writing the sequel. (I love you Jaime!)
UPDATE:
My boo has informed me that TRS will be finished this fall and will probably be released in Spring 2011! WHOO HOO!! We get to read more about that delectable creature Disco. I'm so happy Jaime, this goes to show that you can't keep a good woman down! (gives the finger to the pirates)
(Please don't laugh at me because the picture doesn't line up with the others. I tried!)
Title: Double Cross
Author: Carolyn Crane
Release date: September 28, 2010
I was so impressed with book 1 of the series, Mind Games, that I cannot wait to read this one. Mind Games stayed on my mind for days. The end had a twist that was totally unexpected and I loved the book for that. Loved the characters as well. I hope the book has the word cucumber in it as well. Hey don't look at me that way! You know you loved reading that word to describe *ahem* a certain something. I know
Katiebabs
did!
Title: Twilight Official Guide
Author: Stephanie Meyer
Release date: Supposed to be the end of 2010. But will probably come out in 2077!
I'm pretty knowledgeable when it comes to the Twilight books. You can pretty much say that at one time I was obsessed with them; especially Twilight. So I am looking forward to see what goodies Stephanie might have put in this book. I just hope the book comes out soon and not when I'll be too old to remember what the heck Twilght is!
Title: Shadowfever
Author: Karen Marie Moning
Release date: December 7, 2010 (Heard it was 12/28/10, but I'll take it for the 7th!!)
I know all you Barron's lovers like myself cannot wait to get their hands on this book. It is coveted as much as Lover Mine I believe. We will finally learn the answers to so many questions. What/who is the beast at the end of the book? Why is Barron's so scary to some of the creatures? Will there be another Chapter 4? I'm sure there will be much chatting when this book is finally released.
Title: My Fair Succubi
Author: Jill Myles
Release date: December 28, 2010
Noah or Zane? I flip flop between these too. I love them both, maybe Noah just a tad bit more. What I can't believe is that Jackie is lucky enough to have them both. And you know what I mean by "have" *wiggles eyebrows*. I just hope that Jackie is not as annoying or maybe grows a brain in this book. Hey her boobs got bigger, maybe, just maybe something can be done about her brain.
*WARNING!!* The next set of books make me want to weep with madness!
Title
: Angel's Consort
Author: Nalini Singh (I am in awe of her! I am a such a groupie)
Release: Feb/March 2011(Sobbing uncontrollably)
Raphael. Ah...give me a second. Yes my lady bits are tingling just thinking about him. (TMI Bells!) I want to bathe in his Angel Dust. Oh I'm sorry. I should be talking about book 3 of the Guild Hunter Series. I am so into this series as you can tell. I love everything about it. I become completely engrossed in the books when I'm reading them. They are not easy reads either because she really puts a ot into describing everything and it makes you feel like you are there.
I'm so fascinated in The Seven as well. I think she has created something really unique and that is why so many off us are fiends of her books. I'm happy that Nalini confirms on her site that book 3 will be about Elena and Raphael. I also can't wait to read more about the other angels, especially Illium. He is sexy!!
Here is a link to her site to check out more info on this great series:
http://www.nalinisingh.com/guildhunter.html
Make sure you check out the fan art. There is an artist interpretation of Raphael that is to die for! It is gorgeous, just like he is!

Title
: Next BDB Book (Lover...something)
Author: JR Ward (The Warden)
Release date: Spring of 2011 I'm guessing
*SPOILER ALERT, SPOILER ALERT!*
The next book will be about Paine and Manny. We all know what happened at the end of Lover Mine and we know that Manny is being brought in to take a look at Paine. We have also read about Manny and his possible connection to the BDB. Here is the excerpt from Lover in which V sees Manny:
V took one last look at his rival. The surgeon was staring up at him with confusion, but not fear, his dark brown eyes aggressive and intelligent. It was hard to admit, but in V's absence the man probably would have made a good mate for Jane.
The Bastard.
Vishous was about to turn away when he got a vision so crisp and clear that it was like it had been before his premonitions had dried up.
Actually, it wasn't a vision. It was one word. That made no sense whatsoever.
Brother.
Weird.
V scrubbed the doctor good and clean and dematerialized.
We will all be pulling our hair out waiting for this book. I say the pulling can begin in hmm...February.
Title
: All other BDB books (Hey, it can't hurt to start obsessing over them now!) *shouts*
BDB4EVA!!!
Title
: Gena's next LOU books: The Darkest Secret (Amun's book) March 2011and The Darkest Surrender (Strider's book) July 2011
Strider is my 2nd favorite lord so I can't wait to read his book! Amun's should be interesting. I hope Gena gives him so Excedrin for all those headaches that he has.
Well that's it folks! For some reason I feel like I'm missing a book or two. I'm usually thorough will this kinda thing though. So tell me what books you are waiting for and maybe it might just be one of those. LOL!
The "Like I totally forgot these books" section on the post.

I knew it was going to happen. I warned you up above that I would forget. I blame my old age and my 4 kids. I must have pushed out a bit of my brain with each child. (TMI) I'll have to ask JA Saare what she calls that again. Jules tried to warn me. She said that a bunch were missing. That gal knows me too well. Anyhoo, I'm going to list the books here.

(In order of when I remembered that I forgot them. LOL!)



Book 1:



Title: Ecstasy in Darkness (Alien Huntress Series)

Author: Gena Showalter

Release date: October 26, 2010

I am shamed! How could I forget a book from the woman that I worship! I should be banned from my Gena altar for a day. I should not be allowed to chant her name!

Book 2:

Title: Alien Tango

Author: Gini Koch (who is very knowledgeable in medieval personal hygiene subjects)

Release date: December 7, 2010
*shaking my head* Sigh. I did it again. I'm looking forward to the 2nd book in this series because I love all things Martini! He has the greatest lines!

Book 3:
Title: Cat and Bones book 5
Author: Jeanine Frost
Release date: I don't know
Can't wait to read the word "kitten" again. Bones you so sexy!
Book 4:
Title: Magic...something (Kate Daniels, Book 5)
Author: Illona Andrews
Release date: I don't know
Love, love, love this series! And I love Curran and Kate's banter between each other. Can't wait to read more.
Book 5:
Title: Eternal Kiss of Darkness (Night Huntress, Book 2)
Author: Jeanine Frost
Release date: 8/1/10
This is Mencheres' book and I can't wait to read more about him.

Book 6:
Title: Taken by Midnight (Midnight Breed, Book 8)
Author: Lara Adrian
Release date: 9/1/10
I forgot who's book this is. I can't keep up with every series! LOL!

Book 7:
Title: Night Betrayed
Author: Joss Ware
Release date: 1/25/11
Love this series as well! More, more, more!

Book 8:
Title: Living Nightmare (Sentinel Wars, Book 4)
Author: Shannon Butcher
Release date: 11/02/10
MADDOC!!! I forgot about you! Forgive me please!

Book 9:
Title: Cruel Enchantment (Dark Magick, Book 2)
Author: Anya Bast
Release date:e September 7, 2010
Another great series! If you haven't read Wicked Enchantment, you're missing out!

Book 10:
Title: Inside Out
Author: Lauren Dane
Release date: November 2010
We finally get see Cope get some love! I love this series so much! (I say that a lot don't I?)

Book 11:
Title: No Mercy (Dark Hunters, don't know which #)
Author: Sherrilyn Kenyon
Release date: August 3, 2010
This is Dev's book. I wish I could read this whole series again from start to finish.
So I think that's it. *shifty eyes* I think some of you might have a longer list that I do (looks over a Smexi). Now you can all laugh at me for forgetting all of these great books. I know I am! HAHAHAHA!!