Hello to all and welcome to the start of a very exciting week on
Hanging With Bells
and
That's What I'm Talking About!
Jen and I are sharing our love (obsession) of the wonderful Gena Showalter and her books with you! Gena is one of our favorite authors and her books are near and dear to our hearts.
I personally want to start a cult and call it The Cult of Gena because I am so crazy over her books. I'm sure lots of you have even seen JoJo and I chanting Gena's name because we are obsessed with her books. *chanting* Gena, Gena, Gena. The cult would meet and sit around discussing Gena's book and favorite characters. Chapters will be memorized and our own language will be formed. Once a year the cult would take a trip to a private island where festivities will be held in honor of the great Gena. Our favorite Lord of the Underworld will be there. (Gideon & Strider are mine so back off!) I'm sure there are lots of others who feel the same way that I do right?
Jen and I agree on a lot of the same things when it comes to Gena's books. Here is a list of things that we agree on:
We love the mythology of her books. It's very unique with the use of human mythology, but twisted to show her own story.
Her male characters make us melt. They are not only gorgeous and sometimes wicked, but are really nice guys who are in love with their partners and would do anything for
them.

We love how each pairing is a perfect match and how the males and females soothe each others inner beasts.
Bells: I think she writes the HOTTEST smex scenes! I know that if I am about to read a Gena book I might want to turn the fan on cause it's about to get HOT!!!

This is just a small sampling of our love for Gena's books. We will share more with you throughout the week. Here is a schedule of what we will be talking about this week:
Wednesday May 19, 2010: On Bell's blog check out a story about our love for GENA and her books (and hot males)! GIVEAWAY: The Darkest Night.
Thursday May 20, 2010: On Twimom's blog get the 411 on the LORDS of the Underworld. GIVEAWAY: The Darkest Kiss.
Friday May 21, 2010: On both Bell's and Twimom's blog - hear about our favorite Lords and moments from the stories. GIVEAWAY: The Darkest Pleasure.
Sunday May 23, 2010: Get a sneak peek of The Darkest Passion with Twimom's Sunday Snippets.
Monday May 24, 2010: Read a review of The Darkest Passion on both Bell's and Twimom's blog. GIVEAWAY: The Darkest Whisper.
Tuesday May 25, 2010: RELEASE DAY and a fan letter to Ms. Showalter on Bell's blog. GIVEAWAY: Into the Dark.



So now it's time to talk about today's giveaway! Gena has generously donated a copy of one of her books for each day of the celebration and she is going to sign it!!! Today's giveaway is for the 1st book in the Lords of the Underword series
THE DARKEST NIGHT!!!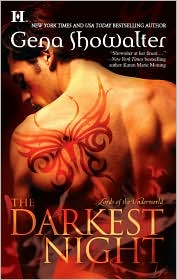 Here is what this great book is all about:
All her life, Ashlyn Darrow has been tormented by voices from the past. To end the nightmare, she has come to Budapest seeking help from men rumored to have supernatural abilities, not knowing she'll be swept into the arms of Maddox, their most dangerous member--a man trapped in a hell of his own.
Neither can resist the instant hunger that calms their torments...and ignites an irresistible passion. But every heated touch and burning kiss will edge them closer to destruction--and a soul-shattering test of love....
This book is a great first in this wonderful series. She really hit the goldmine writing about the Lords because they are a truly a special group of warriors. To win a
signed
copy of
The Darkest Night
this is what you need to do:
Leave a comment telling us what is it about Gena's books that make you love them! If you haven't read any of Gena's books tell us why you want to read them, and what's taken you so long!! (you are missing out on a good thing!)
Provide your email so we can contact you to let you know that you have won. We will contact you for your address info and then forward it to Gena so she can sign your book and send it to you! (you are so lucky if you win. I don't even have a signed Gena book! *sobs*)
All comments must be received by May 26, 2010 by 11:59 p.m. A winner will be chosen using random.org and all winners will be announced on both blogs on May 28, 2010.

Following our blogs is not a requirement but if you are a follower already, thanks for following us. But if you aren't, we would love to have you as a follower. Just click on that handy follow button on the sidebar. :D

So we have a great week in store for all the Gena lovers out there! I personally hope I don't scare Gena away from my blog with my obsessive talk. (I love you Gena!) So make sure you check the schedule above and check out
Twimom
and my posts for the opportunity to win more signed books from Gena.