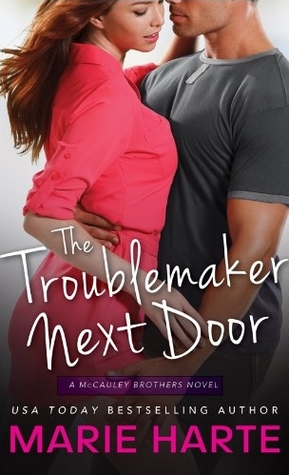 The Troublemaker Next Door
Book 1 in The McCauley Brothers series
Author: Marie Harte
Publisher: Sourcebooks Casablanca
Genre: Contemporary Romance
Release date: 6/3/14
Author's website:
Link
He can fix her sink, but can he wrench his way into her heart?

Flynn McCauley never thought he'd be so cliché as to fall for the girl next door. But when Maddie calls him over to help fix her faulty sink, he's a goner. Too bad the fiercely independent interior designer wants nothing to do with him. Even worse, he's forced to rely on the advice of his nosy brothers—and his five-year-old nephew!—to figure out how to make her give him a shot.
Okay seriously... Who would think a plumber can be hot? I had no idea!!! Now, I don't have a leaking sink but I am wondering how can I get it to leak? *smirks*
This new series by Marie Harte was not only cute and entertaining but HOT!!! Harte brings just the right amount of humor, steam and romance any romance reader would enjoy and totally swoon over. I loved the town, the brothers and the girls next door. All the characters are likeable and enjoyable enough to not want to put this hot read down!!


Flynn is the guy next door who can be a tad wild and he just wants to have fun (who can blame him). Maddie, who doesn't want to fall into anything after things went a little south. You wonder if they can actually make it or just cut their losses. All the characters are likeable. They were very well written I must say.
This new series is fun and super hot!!! Throughout the book you will find yourself laughing out loud and grabbing a glass of ice water. It is the perfect start to a series I don't think I could have ever lived without.

I have seriously added this WHOLE series to my must read list. Well done Ms. Harte!! Keep the boys next door coming because I just cant get enough!!
Reviewed by Danielle: